Taiwan Film Festival in Australia | 台灣影展在澳洲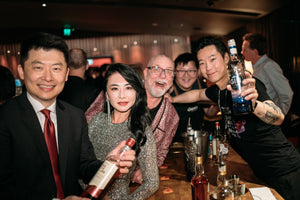 As the annual Taiwan Film Festival comes to a close, we would like to express our heartfelt gratitude to all of you! It has been an enchanting convergence of gastronomy and cinema, a time when we jointly created cherished memories together.
Looking back on the days gone by, our connection with the Taiwan Film Festival has become our most treasured asset. We are immensely thankful to the organizers for granting us this precious opportunity to extend our warmest care to the audience through the medium of delicious cuisine and delightful treats. In front of the silver screen, we unitedly supported Taiwanese film art, allowing the blossom of culture to radiate brilliantly in this land.
We sincerely thank each and every one of the audience members who savored our culinary offerings. It is your love and support that fills us with immense satisfaction. Each dish we prepared carried a piece of our heart, hoping to provide not only a feast for your taste buds but also a testament to our emotional connection with the Taiwan Film Festival.
Food serves as a bridge of culture, while cinema resonates with emotions. Here, we witnessed the fusion of feelings between individuals, where the flavors of our food intertwined with the narrative of the films, weaving a beautiful tapestry of experiences. These moments shall forever be etched in our hearts, becoming one of the most treasured pages in our life's story.
Our heartfelt appreciation extends to each and every partner who assisted us during this gastronomic sponsorship journey. It is your selfless dedication and cooperation that made this culinary endeavor a resounding success. With your support, we overcame obstacles, allowing the aroma of our delicacies and the emotions of cinema to transcend time and be shared with the audience, evoking inspiration and joy.
To the Taiwan Film Festival, we thank you for providing us with such a stage, where our culinary delights met, connected, and acquainted with the audience. On this silver screen, we earnestly conveyed our gratitude, allowing everyone to feel the unique magic between food and film.
Though this culinary sponsorship journey has reached its conclusion, the deep appreciation in our hearts will remain unchanged. Thank you, thank you for your unwavering support and affection, turning the beautiful moments we shared into eternal memories.
We eagerly look forward to gathering again next year, continuing to offer our culinary passion to the Taiwan Film Festival!
隨著一年一度的台灣電影節圓滿落幕,我們想要以最真摯的心情向您們表達衷心的感謝!這是一場美食與電影的奇妙交匯,更是我們與您們共同創造美好回憶的時光。 
回顧過去的日子,我們與台灣電影節的連結成為我們最珍貴的財富。感謝主辦單位給予我們這個難得的機會,讓我們能夠透過美食和點心,為觀眾們獻上最溫暖的關懷。在這片銀幕前,我們一同用行動支持台灣電影藝術,讓文化之花在這片土地上綻放璀璨。
感謝每一位品嚐我們美食的觀眾,是您們的喜愛與支持,讓我們感受到了無比的滿足。每一道料理背後都有著我們的心意,希望能夠帶給您們不僅僅是味蕾的享受,更是對台灣電影節的心情寄托。
美食是一道道文化的橋樑,而電影則是情感的共鳴。在這裡,我們見證了人與人之間的情感交融,用食物的滋味編織著電影的情節,彼此交織成一幅美麗的畫面。這樣的經歷將永遠銘刻在我們的心中,成為我們生命中最珍貴的一頁。
感謝每一位協助我們的夥伴,是你們的無私奉獻與合作,讓這次美食贊助之旅更加圓滿成功。在你們的協助下,我們能夠克服各種困難,讓美食的香氣與電影的情感穿越時空,與觀眾們共同分享感動與喜悅。
感謝台灣電影節,是你們給予我們這樣的舞台,讓我們的美食與點心與觀眾們相遇,相知,相識。在這片銀幕上,我們用心傳遞著感謝的情意,讓每一個人都感受到美食與電影之間的獨特魔力。
雖然這場美食贊助之旅已經劃下句點,但我們心中的感激之情將永遠不變。謝謝您,謝謝您對我們的支持與愛護,讓我們與您攜手共創的美好時光成為永恆的回憶。
期待明年的再次相聚,繼續為台灣電影節獻上我們的美食之心!
---