Ommi's Christmas Menu -Mains- |聖誕大餐-主菜篇-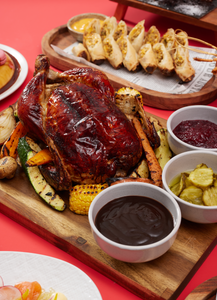 Perhaps the most anticipated meal of the year, Christmas feasts are only completed with an outstanding main dish. 
This year at Ommi's we are proud to present a wide selection of amazing main course dishes.
作為一整年中最受期待的一餐,出色的主菜可是一頓聖誕大餐的靈魂。
今年Ommi's為大家精心準備了幾道美味的主菜為大家選擇。
Introducing -
Ommi's X'Mas Roast Chicken | 聖誕烤雞
A Christmas classic, crispy on the outside, juicy, succulent and tender on the inside.A must-try Christmas treat for you and your family and friends, don't miss out!
烤雞可是聖誕大餐經典中的經典,酥脆的外皮配上又嫩又多汁的雞肉,讓人停不了口。可別錯過這道全家大小都喜愛的料理喔
Chicken Fricassee Pie | 奶油蘑菇燉雞派 
A classic French dish made into a pie, a sweet sweet combination of butter, chicken, and mushrooms seared to perfection. This smooth and filling dish will leave you in awe!
經典的法式菜餚與派的組和,奶油與雞油融合後炒香蘑菇與其他配菜的梅納反應,溫和的味道將為您帶來美好的回憶。
Salmon Wellington With Herb Béchamel Sauce | 鮭魚威靈頓佐香料白醬
Tired of Beef Wellington? No Worries! Ommi's Salmon Wellington is a more healthy alternative! A milky and cheesy finish on the outer crust compliments the fluffy salmon perfectly, with a savoury creamy sauce and special blend of spices, don't miss out on this dish!
威靈頓牛排太膩了嗎?試試我們的鮭魚威靈頓吧!奶香、起司香混合比例適中的香料和鮭魚香氣完美融合!搭配上鹹香合宜的奶醬絕對成為聖誕餐桌上不可錯過的菜餚!
Lobster Seafood Pie | 英式龍蝦海鮮派
Beautiful flakey pastry baked until golden with a creamy, rich lobster filling. 
肉質細膩的龍蝦,搭配其他海鮮製成的派,豐富又細膩的口感,讓您回味無窮。
Beef Cheek Goulash Pie | 紅酒燉牛頰肉派
A delicious dish of stewed beef cheeks in red wine, a classic French dish, Ommi's packs all flavours into pie and delivers an explosion of goodness
當酸澀的紅酒與牛肉一起燉煮後的梅納反應所產生的美味—紅就燉牛頰肉,這道經典的法式菜餚Ommis放入派裡,想讓大家常常這樣好的新滋味!
Smoked Wagyu Brisket | 爐燻多汁香料和牛腩
Wagyu rubbed with herbs and seasoning, smoked until it melts in your mouth, juicy, tender and full of flavours.
撲滿香料的和牛腩,搭配按摩與醃製手法後上爐燻製,鮮嫩多汁
Slow Roasted Whole Lamb Shoulder | 慢烤軟嫩全羊肩
Another classic Christmas roast item, simmered in beef broth then slow roasted, you will not believe the complex layers of flavour this dish possesses.
使用精選的羊肩,搭配慢烤的熟稔技術,香氣瀰漫,軟嫩鮮甜多汁的羊肩料理不容您錯過。
Pork Prochetta Sliced | 香蔥脆皮豬五花捲
When fine dining meets innovation, this dish embodies the creative nature of Ommi's. This fusion cuisine brings out the Asian flavours from the crispy pork and shallots, a must try for adventurers!
烤到黃金色卜卜脆的燒肉,由內散發出的鹹香蔥味!絕搭!
Pre-Order your Christmas Feast Now!
現在訂購Ommi's聖誕大餐吧!
 https://ommis-xmas-syd.square.site/
---