How to order your Christmas Feast | 如何預定聖誕大餐 2023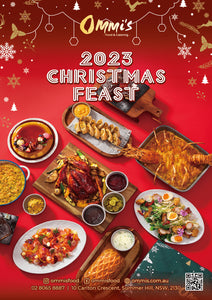 Select Your Service 
CHILL AND FROZEN PRODUCT 冷凍冷藏包
          Dispatch same as other Ommi's products, check our chilled and frozen products and delivery policy 
A rule for Pre-Order Frozen Pack of Christmas Feast 
關於預定冷凍版的聖誕大餐
Area | 配送地區
Areas other than those mentioned above (Australia Wide)|上述地區以外,全澳冷凍配送
About Delivery | 關於配送
same rule as our normal items, we sent the items every Monday to our courier company, they will dispatch the item for you, please check you postcode on our website.
與Ommi's平日的商品訂購沒有區別,統一週日結單,週一發貨到貨運公司,再由貨運公司配送,麻煩在我們的網頁查詢您的郵遞區號,以便了解您的地區何時會收到Ommi's的貨物。
Attention | 注意
You must to count when will you receive the parcel before check out order, Ommi's can not guarantee you will receive your Christmas Feast before your Christmas party, if you count the date wrong. All the food are FROZEN food, you have to warm it up by yourself. If you have any consent or question want to ask Ommi's, feel free to sent Email or Call for Ommi's.
在下單之前,必須要確定計算好自己所選的出貨日期,Ommi's不能保證您在期望的日期前收到聖誕大餐的包裹,如果您算錯出貨日期。所有的食物皆為冷凍出貨,您必須自行加溫食用,如果您在下單前有任何的不確定或問題,歡迎透過郵件或是電話聯繫Ommi's。
FRESH COOK AND DELIVERY ON THE DAY 當日現做外送
          Fresh daily cook and delivery on 23-26 December, order through from our Catering Order System For more information please check below.
Rule of pre order Fresh Christmas Feast and delivery on day
關於當日新鮮配送的聖誕大餐的規則:
Delivery Area | 配送地區
Delivery Date | 配送日期
22,23,24,25,26 of December, 5

 

days 
Delivery Time | 配送時間
Delivery arrival between 14:00-17:00 | 當日將在下午2點至5點間送達
Pick Up Order | 關於自取
select of 22-26 December,  16:00-18:00 in Ommi's Summer Hill Shop 
Address: 10 Carlton Cres, Summer Hill NSW 2130
About Food Temperature | 關於當日送達食物溫度
Fresh and can be eat, but can not guarantee the temperature what is you need, have to warm it up if you have temperature expectations, Ommi's promise that fresh food temperature all meet the FOOD SAFETY Permission.
當日配送的新鮮食物都是當日現作出餐,由於配送過程不因素,不能保證溫度是您所需要的,如果您對當日配送的餐點有溫度期望,可以自行加熱。Ommi's承諾當日出餐的餐點及溫度全部符合食品安全許可。
----------------------------------------------------
Now, we can start to tell you how to make pre order on different system for fresh and on day delivery Christmas Feast!
現在,我們可以開始告訴您如何在不同平台下單我們當日配送的新鮮聖誕大餐了!
Step 1
 Please watch our rules again and carefully, and start to place your order!
進入網頁後請再一次仔細的看我們的送貨規則,然後開始預定您的訂購!
Step 2
Please select PICK UP or DELIVERY. For PICK UP whether you pick which store, there only have one store which is OMMIS SHOP can be select
and press button to continue
. For DELIVERY, please fill up your details and press button to continue.
請選擇自取或是送貨,自取的朋友們在這裡注意一下,無論您地址輸入哪裡,都只有一家OMMIS門店可以選擇,然後按黃色按鈕繼續。選擇運送的朋友請幫我填妥資料後按黃色按鈕繼續!
Step 3
Your can change your delivery date where is Ommis mention on picture.
進入菜單頁面後,您可以透過圖上所圈起來的CHANGE按紐來更改日期。
Step 4
Select your prefer date and press change button.
選擇您需要的日期後按下黃色的更換按鈕即可。
Step 5
After select all your items, you can see your cart at the up and right conner on the page, press it and checkout!
選擇完產品後,您可以在網頁的右上角看到您的購物車,進入結帳! 
Step 6
 The last chance you can change your delivery date and leave a request message for a courier before checkout. Press checkout button and follow step to finish your payment!
在結帳前,您有最後一次機會更改您的運送日期或是留下您想讓貨運人員知道的信息,點選結帳按鈕後,請根據步驟完成您的付款,已完成訂單。
---