Ommi's Savory Offerings: An Unforgettable Catering Experience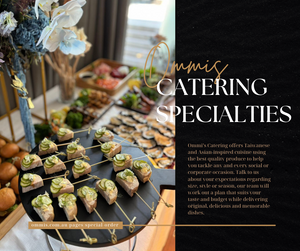 Crafting Taiwanese and Asian-inspired cuisine deeply influenced by Australia
🍽️ Our Catering Services:
At Ommi's, we cater to a diverse range of occasions, from private events and birthday parties to outdoor barbecues and office lunch boxes. Large group gatherings, cocktail canapé events, breakfasts, lunches, and elegant buffet or sharing plate affairs, as well as multi-course sit-down dining, are all in our repertoire.


🌟 Our Story:
Founded in May 2020 by Taiwanese-Australian chef Omar Hsu, Ommi's Catering reflects over a decade of experience. Chef Omar, who has honed his craft working alongside renowned Australian chef Matt Moran, brings a blend of Asian and Western culinary traditions to the heart of every dish. With every occasion you host, we aim to provide nothing short of the very best.
🍲 Our Menu:
Our menus are a reflection of your desires combined with our expertise. We strive to achieve a harmonious fusion of Asian and Western flavors, carefully tailored to the season and the nature of your event. Whether it's a seasonal dinner, a roaming canapé extravaganza, or an elegant wedding, our team is committed to crafting a delightful dining experience.


Visit our website to explore our special catering offerings: Ommi's Catering Services.
Get in touch with us today:
📩 Email: info@ommis.com.au
☎️ Phone: +61 2 8065 8887
At Ommi's Catering, we're here to make every moment unforgettable. Your taste, your occasion, our culinary craftsmanship.
---