2022 Ommi's Mooncake is Comin Back| 2022 Ommi's月餅強勢回歸!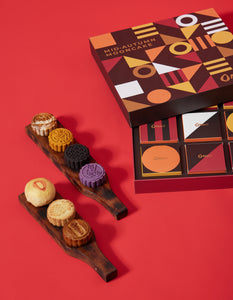 中秋,往往是家人與朋友聚在一起的日子,所以Ommi's 想跟我們愛的朋友們一起慶祝這一年一次美好的傳統。無論你們是否慶祝中秋,但吃好吃的東西、品嚐新的東西,總是可以讓人精神振奮!
現今,月餅的餡料層出不窮,最常見最經典的是用蓮蓉或烏豆沙和鹹鴨蛋黃制成的月餅或蛋黃酥。這種芳香可口的組合,鹹甜適中!
今年中秋,Ommi's在廚房裡嘗試了非常多種食材的碰撞來製成月餅,現在,我們有一些美好火花的結果想與你們分享,想讓你們知道,原來月餅可以有這種火花!而今年Ommi's的月餅原物料,特別挑選台灣具有百年歷史的的銘珍食品、呂昇達老師的產品、日本進口的九鬼芝麻及嚴選澳洲當地原物料來手工製作今年的月餅。我們杜絕來歷不明的低廉原物料,為了就是讓你們吃得健康、安心及我們的用心!
目前我們開放兩種版本的月餅禮盒提供預購,並且享有早鳥優惠!

麻糬流沙系列
芋泥鹹蛋黃流沙 X 2
九鬼黑芝麻流沙 X 2
台式炭烤地瓜麻糬 X 2
虎斑鮮奶黑糖麻糬 X 2
再加一個隨機口味,恕無法指定。
經典台灣月餅系列
金沙滷肉綠豆椪(金月娘) X 3
台灣鳳凰酥 X 3
烏豆沙鹹蛋黃麻糬 X 3
預購按這裡:
https://reurl.cc/KQ66o9
**預購的月餅禮盒為早鳥優惠,恕無法自行任意搭配口味
**注意,月餅預購單為單一訂單,恕無法與其他訂單合併。
Q&A
Q:我想買單顆月餅,為什麼顯示Coming soon?
A: 目前為"月餅禮盒"預購,單顆月餅販售會在之後開始,會再另外通知,請密切注意我們的社群!
Q:月餅怎麼保存?
A:我們的月餅常溫保存,每個月餅都有脫氧包!未拆封可以放一個月,拆付後請當天食用完畢。
Q:我實在好想要混合口味的月餅!
A:小編提供兩種辦法,第一個是,您可以跟朋友一起預購共兩盒不同口味的月餅禮盒,我們的月餅禮盒不會封死,所以您收到月餅後可以自行交換。第二個辦法是,等單顆月餅及空的禮盒開始販售與加購時,您可以自己組合,滿9顆月餅禮盒加購不用錢,系統會自動扣除。
Q:預購月餅何時寄出?自取?寄送?
A:我們的月餅預計八月底九月初會開始寄送,如果您要自取也歡迎到門店拿。網站上如果無法選擇您要的時間沒有關係,請擇任一時間。只要您有下訂單或備註我們這邊都會在月餅準備好時,通知你們。
 最後溫馨提醒,月餅禮盒預購訂單為獨立訂單,無法與其他商品一起訂購配送。
The Mid-Autumn Festival is a cultural and religious holiday that is celebrated on the fall harvest. What was once a kind of offering to the moon has now evolved into the most popular food on during the holiday.
Mooncakes are endless fillings these days, but the most commonly known are ones made of lotus paste and salted duck egg yolk.
This year, Ommi's tried on many ingredients to make our new mooncakes, and we are get some good results now, wants to share with you!
This year, we are import traditional ingredients from Taiwan, Japan and using Australia product to make Ommi's mooncake. As we want to all our friends eat health and safety.
Now, we are releasing 2 series for Pre Order
Click here: https://reurl.cc/KQ66o9
Machi and Lava Series
Taro and Salty Yolk Lava X 2
KuKi Black Sesame Lava X 2
Taiwanese Charcoal Baked Yam and Mochi X 2
Tiger Marble Milk and Brown Sugar Mochi X 2
Random Selection X 1, cannot be specified


Classic Taiwan Series
Golden Mung Bean and Pork X 3
Taiwanese Pineapple with Salty Yolk X 3
Red Bean Paste with Salty Yolk and Mochi X 3
**Pre-order mooncake box is an early bird offer, so you may not be able to mix and match any of the flavours by yourself.
Q & A

Q:I want to buy a single mooncake, why does it say Coming soon?
A: The mooncakes are currently available for pre-order, single mooncakes will be available for sale at a later date.


Q: How do I store the mooncakes?
A: Our mooncakes are kept at room temperature and each mooncake comes with a de-oxygenation pack! Each mooncake comes with a de-oxygenated packet and can be stored for one month unopened.


Q: I really want a mix of flavours!
A: There are two ways to do this. Firstly, you can pre-order two boxes of different flavours together with your friends, as our boxes are not sealed, so you can exchange them when you receive them. The second option is that you can combine the mooncakes and the empty boxes when they are available for sale and you can add them to your order.



Q: When will the pre-order mooncakes be sent out? Self-pickup? Send?
A: Our mooncakes will be sent out in late August/early September. If you can't choose your preferred time on the website, please choose any time. We will inform you when the mooncakes are ready as soon as you place your order or make a note.

Lastly, we would like to remind you that mooncake gift boxes are a separate order and cannot be delivered with other items.
---